BT Redcare
Redcare Grade 4 Signalling - 40 second response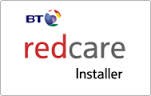 BT Redcare GSM offers the highest level of protection you can buy. Its phone line is monitored constantly and, if cut or a fault arises, this is signaled to the Alarm Receiving Centre (ARC) within just 40 seconds.
Every two minutes Redcare GSM also checks that the alarm on your property is working. Should an alarm sensor be triggered, it takes just a few seconds to alert the ARC . If confirmed by a second zone being triggered, your ARC can legitimately contact the emergency services and dispatch them to secure your property.
Dual path signalling ensures continuous cover
Redcare GSM also benefits from being a 'dual path' system. Its main BT telephone is the 'primary path'. Should this ever fail, there is a back-up link, a 'secondary path'. This uses the mobile phone network to communicate with the ARC. You will know if intruders enter your property, upon which a signal will quickly be sent to the ARC, and the emergency services will be alerted.